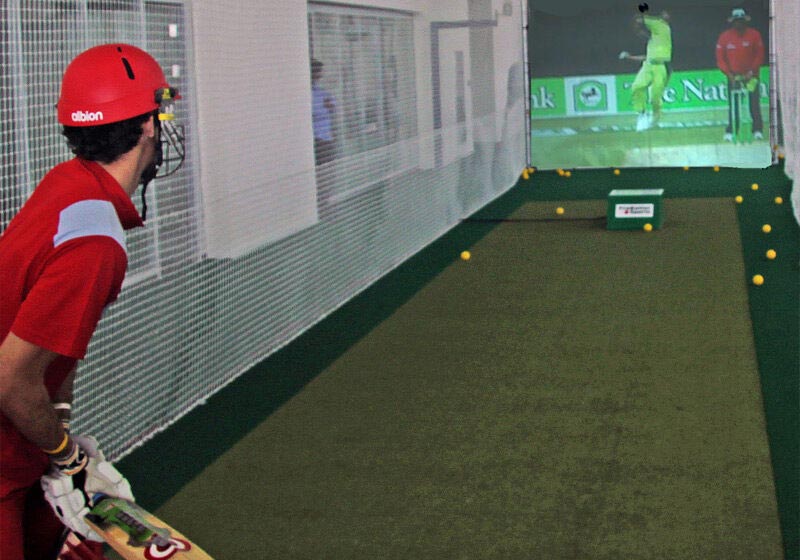 Revolutionary Training System Creates Results
The ProBatter PX3 Cricket Video Simulator is the only one of its kind in the world and is used by a number of the top national teams and the ICC Training Center. Relying on a cutting-edge pitch head and operated by a touch screen controller, the PX3 simulator contains a video production screen on which is projected the video image of a real-life cricket bowler whose timing is synchronized with the pitch head. It is capable of bowling at between 60 and 160 KPH. The PX3 simulator allows batters to experience game-like conditions resulting in improved timing, rhythm, and match performances.
Fully Programmable, User-Friendly, Touch Screen
Batters can choose from a wide variety of different, fully programmable deliveries for Pace Bowlers, Wrist Spin Bowlers, and Finger Spin Bowlers including, among others, swinging, bouncers, Good Length, Half Volley, Leg-Spin, Off-Spin, and the Doosra. Features include multiple unique skill levels with age and level-appropriate videos to provide the most realistic cricket bowling simulation ever.
Pre-Programmed Skill Levels, With Skill Appropriate, DVD Quality Video Bowlers
Programmed for various levels from youth through professional as well as for males and females. Adjusts to simulate either right or left-handed bowlers.
Different Pre-Programmed Delivery Type
Virtually all deliveries a cricket bowler can deliver are available on the ProBatter cricket system:
Pace Bowlers: Short, Good Length, Half Valley (Full), Yorker, Full Toss, Two Varieties of Outswing, Two Varieties of In-swing, Slower Ball and Slower Ball Bouncer
Wrist Spin Bowlers: Leg Spin, Top Spin, Googly and Flipper
Finger Spin Bowlers: Left Arm Orthodox, Right Arm Off Spin, Arm Ball, Doosra and Faster Ball
Pin-Point Accuracy, Delivery After Delivery
The dual wicket feature allows the ProBatter PX3 Cricket Simulator to create realistic delivery lines, angles, and trajectories when facing right and left-handed bowlers, pace bowlers, and spin bowlers, over or around the wicket.
Realistic Simulation Improves Batters' Timing
ProBatter's patented synchronized video simulator creates a dramatically realistic game-like environment. Basic one-dimensional ball machines don't offer visual reference to a bowler's run-up, delivery stride, or ball release point and can hinder a hitter's timing and rhythm. No other ball machine or training tool can provide a fully-programmable range of deliveries, ball speeds, pin-point accuracy, or realistic video simulation like the PX3 Cricket Simulator.
Makes Batting Practice Infinitely More Efficient, Productive, Economical and Fun
Get the most out of your batting practice. No more wasting time on ball machines to practice your shots or being held back by a limited range of deliveries or programming. The ProBatter PX3 Cricket Simulator allows you to custom program your desired bowlers and their deliveries and bowling styles. Realistically, accurately and efficiently, the PX3 Cricket Simulator improves match performance better than any other ball machine, system, or method on the market.
ProBatter Custom and Quality On-Site Installation
Every unit is installed and serviced by a trained ProBatter Sports specialist. All parts and equipment are manufactured to exceed the industry's highest standards to delivery years of dependable and reliable performance. ProBatter offers a full 1-Year warranty covering all parts and labor on the PX3 Cricket Simulator and 3-Years on the system's projector.