WHAT IS THE MOST RELIABLE BASEBALL PITCHING MACHINE?
When it comes to selecting the most reliable baseball pitching machine, there are many options. You may get confused while figuring out a few differences among different pitching devices. Usually, the most reliable pitching devices are the costliest ones, but cost, alone, cannot signify the right one, especially for every individual's exceptional situation.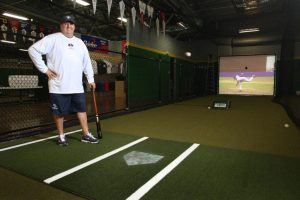 What Is the Most Reliable Baseball Pitching Machine?
Many people have limited budgets and they still look for the best device according to their requirements and budgets. So, before deciding on the most reliable device for your specific situation, you should assess the most important features.
1. It Must Have At Least Three Wheels
The right pitching device pitches real leather baseballs and treats them properly so they last one or two sessions. More pressure points on the pitch are a way to achieve this. Double or single-wheel devices function by pitching the balls at high spin rates. The most reliable pitching devices feature at least three wheels.
2. Throws Actual Baseballs
If you don't do it correctly, you'll end up spending more money on baseballs than you did on the pitching machine. Real leather baseballs are quite costly. Many devices, particularly those which have fewer than 3 wheels, tear up a leather baseball's appearance. As a result, you can't rely on your baseball with devices that don't have at least three wheels.
3. Functions Portability
A reliable pitching gadget is quite easy to move. Many 3-wheel devices fall short in terms of portability. Usually, they are heavy and less portable compared to single-wheel ones. Hence, you can opt for a device made with two wheels as it is easy to move.
4. Throws More Curveballs
The ball's durability is not the lone factor in the number of wheels a pitching device uses. It also impacts the capacity to throw various pitch types. Three-wheel devices give you choices for precise sliders, sliders with knuckles, curves, and pitch movements.
A few two-wheel devices throw curveballs. Three-wheel devices, where every wheel is assessed and controlled individually, make adjusted pitch types easier. Single-wheel machines don't provide any capacity to throw anything but straight balls. For this reason, they also try to reach normal pitch speeds.
5. It Can Be Used For Fielding Practice
A few devices cannot change spin rates. Hence, using them in the field for continuous ball practice is almost useless. Three-wheel devices can make precise spin types on hit balls if they are light enough to adjust quickly.
6. Pitching Speed
The best pitching machine can throw a real 100 mph fastball. To see a faster pitch, you must move the device closer.
Bottom Lines
You can save your money by purchasing devices with maximum power. In terms of importance as you see your pitching device, you should choose a machine that features:
Three wheels

Max power

Portable

Affordable

Good pitching speed
Keeping these features in mind, you should opt for the most reliable baseball pitching machine from ProBatter Sports, as they provide the best device for the money.